About Athens Djembe Company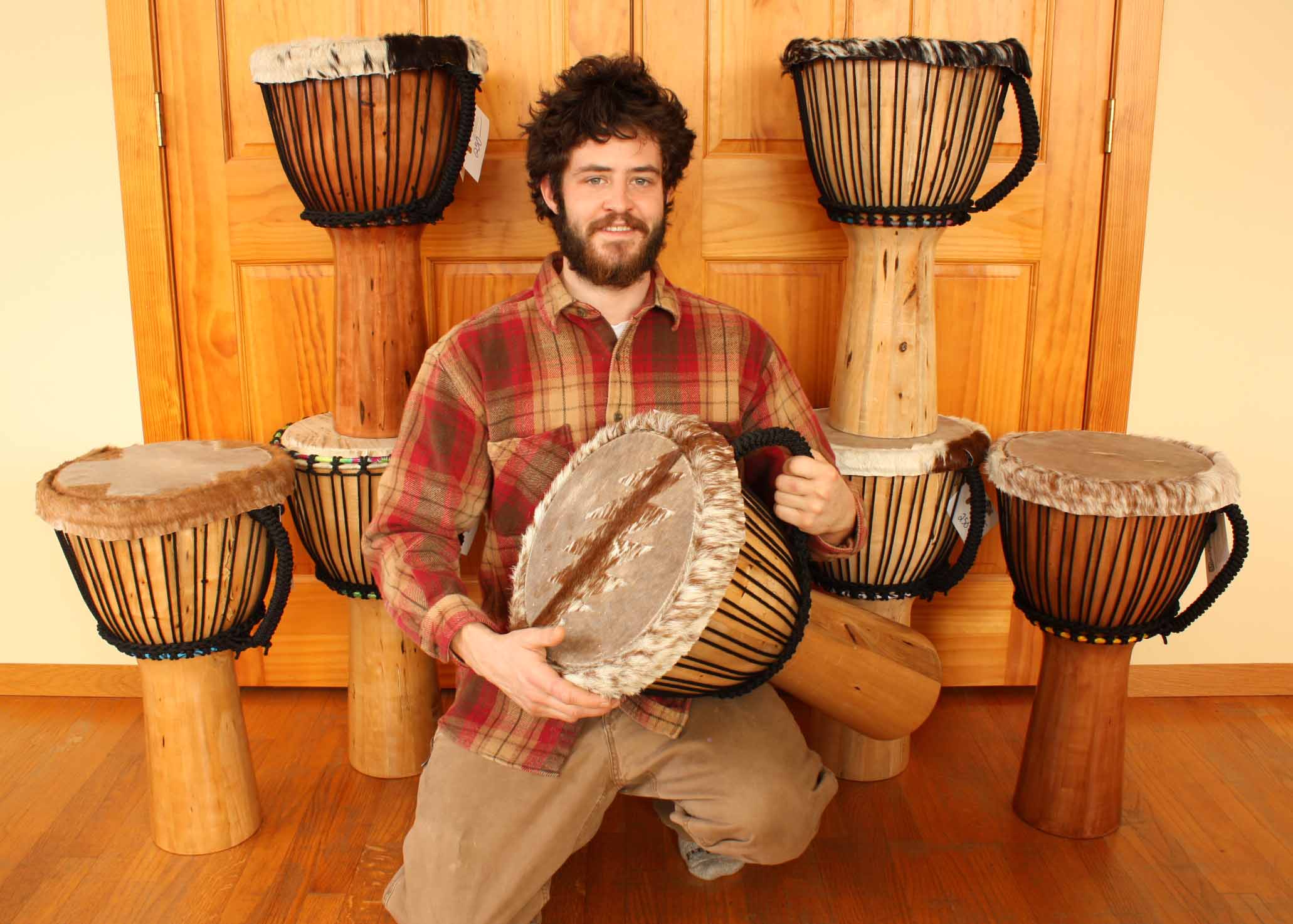 Athens Djembe Company was founded in 2010 in Athens, Ohio by Andy Gedeon. We specialize in custom-made Djembes and Djembe re-heading. All of the labor is done locally and we never purchase pre-carved African drum shells to mark-up and re-sell as many other companies do. From chainsawing and lumber milling to the fine bandsaw and lathe work, we do all of the woodworking ourselves right here in Southeastern Ohio. The metal rings are hand-rolled from 1018 steel rods and welded by hand in our workshop. We do all of the rope tying, stringing, and knotting required to put the skin onto each drum.
Sustainability is another of our goals. We have thus far never harmed a live tree in the making of a drum, only using naturally fallen trees. We plan to take on tree planting initiatives in the future as well as plan to donate part of the proceeds to help conserve forests. By not importing our drum shells from Africa, we are saving our fossil fuels which are otherwise burned to transport these drums across the ocean. Buying local products is a great way to help our environment and buying USA made products can be a great way to help our economy.
In order to create the best sounding drums, we have been continually improving the design of our Djembes since the start of the company. Many years of research and development have led to a very fine sounding Djembe. With rich bass and crisp highs, our drums have a large range of tones which can be produced. The quality of construction has also been continually improving, giving a very strong, light-weight, and beautiful drum.
Company History
The original concept for our drums began in 1999 with a prototype for an African style hand drum, the Djembe. In 2009 after many years of playing that original drum a friend suggested that this Djembe design was very innovative and wondered how feasible it would be to start a business making and selling the drums. Our family already had the tools and shop space needed to produce these drums, so we began the process of designing the drums, and making a business plan.
But what really got us started was a windfall — literally. A large Basswood tree had blown down in the woods near our home. We got out the chainsaws and with help from some friends, we were able to cut eight-foot logs and haul them down the half-mile trail to the main road. Once the logs made it there, a portable sawmill was used to mill the wood into a large stack of rough-cut four inch boards. We brought these boards to our workshop to slowly air-dry before using them to make our drums.
The first of our drums was finished in spring of 2010, but it was far from perfect. The head was loose, sound quality was far from superior, and it looked sloppy to say the least. After many months of trial and error, we began to see dramatic improvements in the look and sound of our drums. We began producing drums with fur around the rims, perfected the shape of the wooden shell on the lathe, and became quite skilled at putting the skins onto the djembes. Soon all of the drums were passing our standards of quality control. In the fall of 2010 the drum-making process began to become more streamlined and efficient, while maintaining the high quality standards we expected from our drums. Once we had a product that our founder was completely satisfied with, we began the process of creating our company. Hand drawn logos and graphics by Joseph Alexander were commissioned for use on our website and merchandise. We spent months designing and building our website, and developing a sales and marketing plan. Finally in January 2011, we filed the paperwork to make Athens Djembe Company LLC official.
Research and Development
Our company plans to distinguish itself from the other Djembe manufacturers in the world by creating the best possible sounding Djembe. It is now 2015 and we have seen dramatic improvements in sound quality and design in the past 5 years. We aim to keep up our research and development, so that we can discover even more innovations to improve our product. We have recently used computer acoustical modeling to create the optimal Djembe shape. We have come up with several other proprietary processes which give our drums way better bass.
Along with optimizing our standard Djembe, we have also spent countless hours figuring out ways to modify our drums. We developed sound-activated LED technology, where a ring of LEDs encircles the top of the drum shell. The LEDs are sound-activated as the drum is played, blinking to the rhythm of the drum. We have also figured out how to tattoo the goatskins, allowing for any custom design to be permanently tattooed into the head of the drum. The most major breakthrough had been the "electric Djembe". After several years of research, we have developed a patent-pending internal microphone system, which allows the drum to be plugged into any PA system or recording studio, as you would plug in an electric guitar or other electric instrument. We plan to continue to pursue our research into the future and hope to come out with many more amazing features.
Founder/Owner: Andy Gedeon
Born and raised in the foothills of the Appalachian mountains, Andy grew up surrounded by deciduous forests. He had plenty of room to play as a child on the mostly wooded 47 acre family property near Athens, Ohio. Growing up with a deep appreciation for the forest and its great biodiversity, values of conservation and protection of our local ecosystems were deeply instilled in his mind.
From 2001 to 2006, he spent his days attending Ohio University, where he graduated with a Bachelors degree in Biology Pre-medicine. Several years were spent working in a laboratory doing cell culture work for a local company called Diagnostic Hybrids. He also worked with the university doing research to help find cures for diabetes. Although the work was rewarding, being stuck inside a sterile clean-room was not his idea of a fun work environment.
Andy has always had a passion for hand drumming. Combining that passion with the great love of nature and the surrounding forests, led to the founding of Athens Djembe Company.